Michael Schadone has many years of service in EMS leadership and currently serves as a critical care paramedic. He has worked in the fire service, with private ambulance services, rural 911 providers as well as large urban 911 providers. Michael has over 20 years experience teaching and actively working in all facets of public safety.
Michael is recognize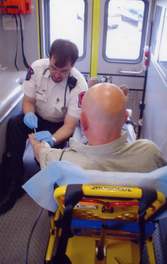 d as an EMS leader, and he continues to advance in his profession — from training other EMS professionals to assisting in field testing new devices, Michael is an innovator in Critical Care and Special Operations.
In addition to his EMS experience, Michael is an experienced computer programmer and IT professional. Michael's goal is to use technology to improve the delivery of EMS, bringing tomorrow to today.
Schadone.com has been a leading resource for Emergency Medical professionals for over a decade. Our goal is to bring you the latest in news, current trends, and emerging technology in the delivery of EMS. Whether you work for a fire-based or third municipal service, whether your response area is rural, urban, or suburban, whether you are a traditional field provider or work in a non-traditional role, we strive to keep you informed.
Contact information